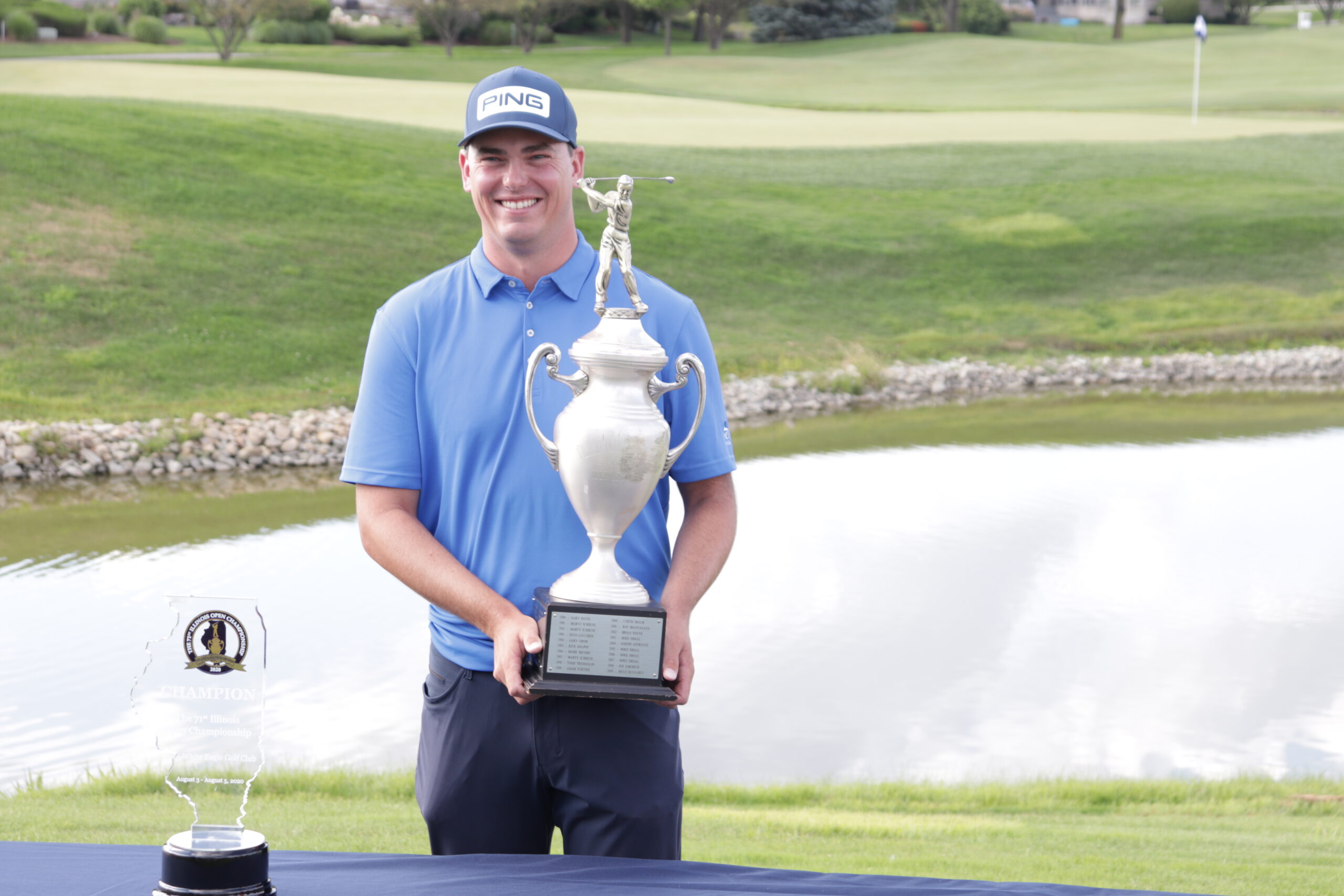 Through video and network technology, Scientel powered the first-ever livestreamed edition of the PGA Illinois Open at White Eagle Golf Club.
In August 2020, White Eagle Golf Club (WEGC) in Naperville, IL hosted the 71st Illinois PGA Open. To enhance the audience experience, WEGC wanted to implement a high-definition livestream of the tournament.
A number of technical challenges stood in its way – a fact that was made more difficult with a shifting date due to COVID-19 and a need to ensure the course's aesthetics were on par for such a prestigious event.
With a critical network infrastructure challenge on its hands, WEGC turned to Scientel to recommend and implement the best solution.
Through comprehensive network design and integrations with Avigilon and Siklu technologies, Scientel successfully enabled WEGC to host the Illinois PGA Section's first-ever livestreamed event.
THE CHALLENGE
WEGC needed an uninterrupted livestream solution that could capture the action at several key course locations without interfering with the tournament experience.
Neither WEGC nor the PGA Illinois Section had ever livestreamed an event – let alone a tournament of this magnitude.
The need to stream the action in real-time – uninterrupted and at high-definition – not only required video technology that could properly capture the event, but a way to take vast amounts of video data being captured at multiple holes and transmit it all to multiple viewing areas at once.
It was also essential that the aesthetic beauty of the course was preserved. WEGC was originally designed by Arnold Palmer Design Group, with 163 acres of pristine grounds. Intrusive cables throughout the fairways were not an option.
Adding to all of these challenges was COVID-19. In addition to a heightened need for a streamable option due to attendance constraints, the event had been postponed and the new date was up in the air. The solution needed to be one that could be implemented quickly once the event was re-scheduled.
SCIENTEL'S SOLUTION
Scientel designed and installed a network of high-definition video cameras and high-capacity mmWave radios to seamlessly stream the event.
Despite the project's plethora of challenges, Scientel knew that it needed to implement a relatively light-weight solution that could simultaneously capture high-resolution video and stream it without loss of quality – all without cables littering the course.
First, Scientel determined that Avigilon's H4 Pro cameras would be more than capable of capturing the event at the ideal quality. Scientel had already worked extensively with the H4 Pro line across a wide variety of use cases as part of its situational awareness offering.
"Avigilon's advanced capabilities make it a natural fit for filming large-scale events, and for providing security at sports venues. In this case, the ultra high resolution images and intuitive and easy-to-use interface, combined with the easy deployment of an end-to-end platform, made it a great choice for filming this event. Scientel did an excellent job in putting these capabilities to use in order to bring the spectators of this event a world class experience."

– Joe Mayer

VP, Government Video Sales at Motorola Solutions
To address the livestreaming needs, it was clear that a high-capacity network was required to effectively stream in high-definition with low latency. To solve these complex network demands, Scientel chose Siklu's EtherHaul 614 TX radios. The mmWave technology in Siklu's radios would enable the livestream to be executed at high quality without excessive wiring.
Both Avigilon's and Siklu's technology allowed for efficient installation and high-quality video streaming, enabling Scientel to move quickly within an abridged timeline.
Throughout this process, Scientel's engineers worked closely with WEGC's team to ensure an optimal experience for both golfers and spectators alike.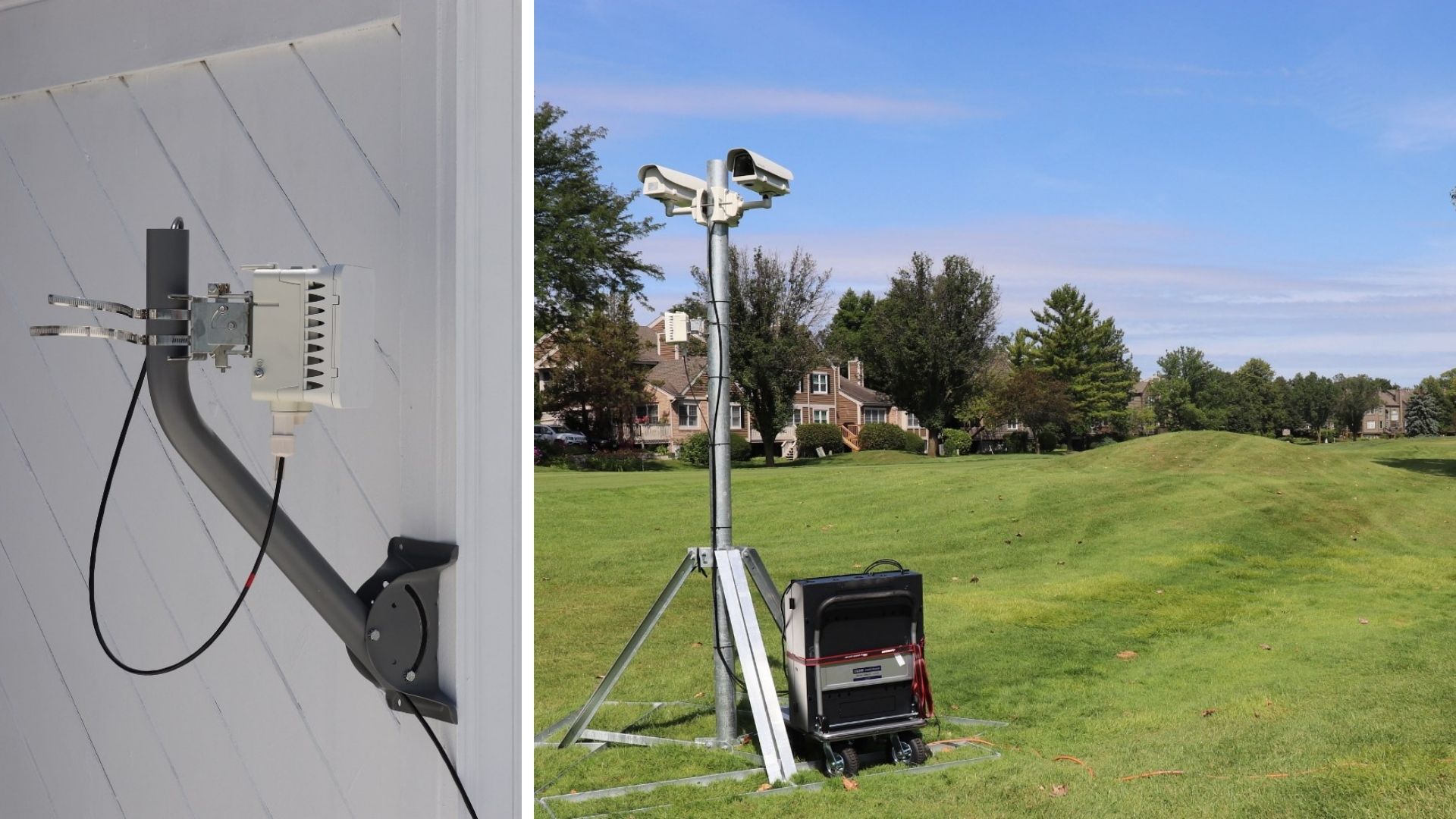 Left: one of Siklu's EtherHaul 614 TX radio. Right: Avigilon H4 Pro cameras set up on course.
THE RESULTS
The tournament livestream – the first of its kind for the PGA's Illinois Section – was an unequivocal success.
Scientel was able to successfully implement the Avigilon- and Siklu-powered solution within a matter of days, with livestream viewing points set up at two key event locations: the Clubhouse balcony and the 12 Green.
Thanks to the technology and its rapid deployment, WEGC's PGA Open livestream was a major success – a particularly notable feat given that this was the Illinois PGA Section's first livestreamed event.
As planned, the stream was executed in real-time, at high-definition, and without interruption. WEGC and Scientel could not have been more proud to provide Illinois PGA fans with a comprehensive livestream of the esteemed Illinois PGA Open.
"Siklu's high capacity, low latency millimeter radios allowed for a seamless installation experience, as well as an interruption-fee video broadcast. We look forward to an expansion in next year's event, broadcasting to an even larger audience."

– Mike Cataletto

Chief Technology Officer at Scientel Solutions
In addition to the livestream, WEGC and the PGA Open further benefitted by leveraging Scientel's multifaceted services, including its thermal detection and drone capabilities. MET units were stationed at the check-in tent to efficiently take temperature readings and ensure the safety of all players and spectators. As an added bonus, Scientel facilitated a drone-powered beverage delivery service between the clubhouse and the green – a crowd favorite from the event.
Looking ahead, Scientel is excited to implement this proven livestream solution at future golf tournaments and other major events.
"All the vision [that] Scientel has had, they have delivered on. My client satisfaction is at an all time high."


– Curtis Malm

Director of Golf at White Eagle Golf Club