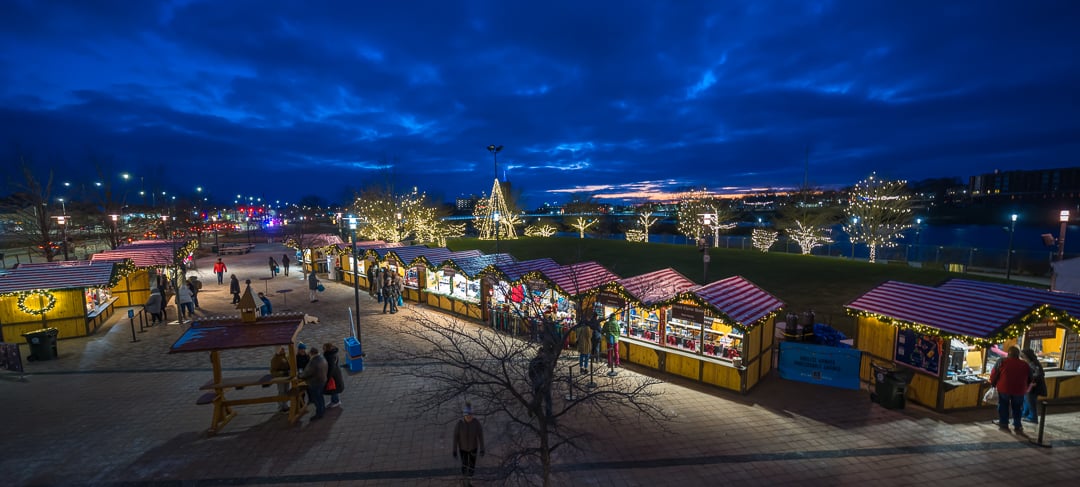 The Christkindlmarket comes to Aurora bringing holiday treats, trinkets, high-speed
Wi-Fi, and increased situational awareness.
Since 1996, the Christkindlmarket has been an annual attraction in the City of Chicago and throughout the Chicagoland area, uniting the German and European tradition with international flair. Now in their 26th year, the market has made their way to the City of Aurora. With a new goal in mind, the city and the market sought out to provide a safe and functional experience for both visitors and staff. To bring this vision to light, Scientel worked with both the city and market to implement a dual solution at the new event space.
Ensuring internet connectivity for staff and vendors while increasing patron safety was critical to the success of Aurora's new holiday staple. Taking place in RiverEdge Park, Scientel produced a wireless network & situational awareness solution that enhanced public security measures and guaranteed reliable internet service for over 30 vendors and thousands of guests. With Scientel's new solutions, Aurora residents are able to enjoy a unique holiday experience filled with shopping, live entertainment, German and international foods,bratwurst, Glühwein, and much more.
THE CHALLENGE
Scientel's task was to avoid implementation delays due to tight deadlines & long equipment delivery lead times
Due to national supply chain shortages, the timeline for securing equipment for this project would have led to various delays in project execution. In several instances, camera & network equipment would have delivery times well past planned project deadlines, forcing the field team to adjust project schedules to meet the needs of having a fully functioning system prior to the market opening, November 18th.
"We compressed [the project] into about three months of work, which was challenging, but we were able to do it because of [the City's staff] and also our partnership that we have with Scientel Solutions "

– Mike Pegues, City of Aurora's CIO
To circumvent further delays, Scientel leveraged its extensive partner relationships and relied on their equipment warehouse to ensure no additional setbacks occurred.
SCIENTEL'S SOLUTION
Scientel expanded the Wi-Fi network and situational awareness capabilities via numerous upgrades to accommodate the staff, vendors, and guests of the Christkindlmarket.
To support the Christkindlmarket's large visitor influx, RiverEdge Park needed an updated Wi-Fi infrastructure. This Wi-Fi network needed to strengthen the existing indoor network and extend outside to allow vendor and patron usage, as well as upgrade future capacity both on the east and west side of the pedestrian bridge and Wilder Park. Scientel determined that their partner Fortinet had the infrastructure equipment most suited for the Wi-Fi upgrade. 
Partners of Scientel worked in sometimes below 30-degree weather to lay a 10GB fiber connection to a 1GB redundancy. After creating a fiber connection, the team set out to replace the park's existing switches and indoor and outdoor wireless access points with multiple FortiAPs-U231Fs and FortiSwitches FS1048E, FS448E and FSR112 FPOE around the park. 
In addition, network engineers from the City of Aurora created a private and public Wi-Fi login portal as well as a landing page to provide stronger authentication and protection. This solution also included a network segmentation to accommodate staff and vendors. 
With the execution of the Wi-Fi solutions taken care of, Scientel technicians began installing cameras around the perimeter of River's Edge. 
With the completion of the newly installed cameras, security personnel gained a heightened line of sight and a newly deployed video server system.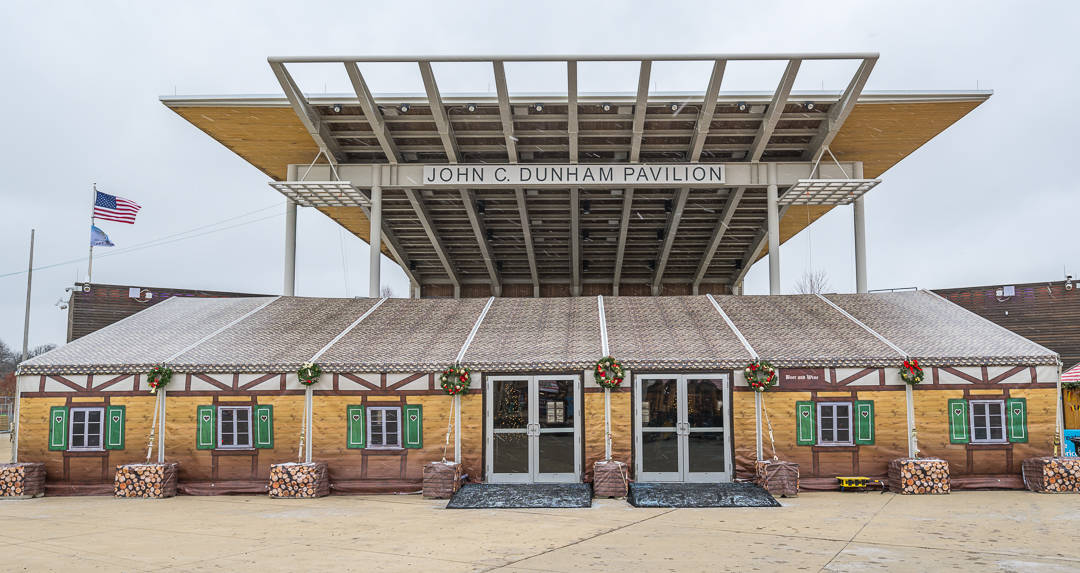 THE RESULTS
With extended Wi-Fi coverage and video surveillance, staff, vendors, and visitors can immerse themselves in the holiday spirit without worrying about cyberthreats while enjoying a stable internet connection.
With the completion of the upgraded Wi-Fi system, German American Events, LLC's staff (the event organizers of the Christkindlmarket) staff can maintain their daily operations to ensure complete functionality for guests and vendors.
"We also run our Point-of-Sale system to sell our merchandise, hence having a reliable and fast Wi-Fi was key to our operations. We are thankful for Scientel Solutions and the City of Aurora for all of their efforts in making sure that the Christkindlmarket Aurora ran smoothly"

– Prachi Deo, Senior Manager for Event Operations at German American Events, LLC.

The installation of the outdoor Wi-Fi network allows vendors to maintain smooth customer interactions. Now vendors have a safe and secure network for purchasing transactions, email signups, and other processes that enhance the guest's experience. 
Guests of the Christkindlmarket also have access to a free authenticated Wi-Fi network that provides them with high-quality service while they enjoy, share, and livestream their time at the Christkindlmarket. 
Security personnel can provide better security protocols with their new lines of sight. With the extended visual coverage, guests can take comfort in knowing that there are measures in place to ensure they are safe from harm. This was made possible in conjunction with the help of our camera equipment and server partners Axis and Siemens.  
By providing training and ongoing support to RiversEdge Park and the Christkindlmarket's staff, vendors can deliver the most memorable holiday experience. Scientel's dual solution has laid the foundation for RiverEdge Park to support various events like this in the future, bringing greater joy to the citizens of Aurora for many years to come.
If you're interested in an up-close look on how Scientel provided the Christkindlmarket with its dual solution, check out the our new visual summary of the entire project on our Youtube channel!