Wi-Fi Standards: Past, Present and Future – What They Mean to You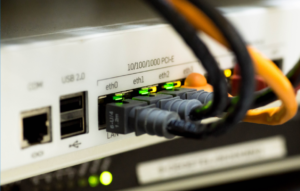 "Wi-Fi" is now such a commonly used term, people don't give it much thought, other than knowing they can get their Internet through wireless. Across America in homes,  airports and coffee shops, people are looking to connect their laptops, tablets, phones and other devices to the nearest wi-fi network.  But what is "Wi-Fi", and where is it going in the future?
Wi-Fi has its origins in a 1985 ruling by the FCC, that released the ISM Band (2.4 & 5 GHz)  for unlicensed use.  Beginning in 1997, the IEEE (Institute of Electrical and Electronics Engineers) developed a wireless standard known as 802.11 by which data can be communicated over a wireless link.  Since that time, there have been a number of amendments to this standard, each with increasing speeds and improved coverage capabilities.
The earliest standards were 802.11a and 802.11b, running at frequencies of 5 GHz and 2.4 GHz respectively.  By year 2000, the 802.11b was most common, with peak throughput bandwidth of 11 Mbps. In 2003, the 802.11g standard was developed that increased bandwidth speeds to a peak 54 Mbps.
Forward on to 2009 was the advent of 802.11n, a dual-band standard that runs at both 2.4 and 5 GHz.  This time the peak bandwidth speeds increased to 600 Mbps. Jump to 2014, then 802.11ac hit the market with potential speeds up to 3 Gbps. The introduction of the "ac" standard was the first time the "MIMO" antenna technology was used – Multiple In, Multiple Out.  This multiplies capacity of the radios by transmitting different signals over multiple antennas. An addition to the "ac" standard is called   "Wave 2", which introduces a modulation method known as OFDM (Orthogonal Frequency Division Multiplexing).  OFDM converts 1 high-speed data channel into multiple parallel lower-speed channels.  This results in better coverage and longer-distance reception. As this article is written in the beginning of 2018, this is the wi-fi standard of today.
What does the future hold?
Behold the newest commercial  wi-fi standard, 802.11ax. What is so special about "ax"?
The new 802.11ax dual-band standard is designed to improve spectral efficiency, especially in dense deployment areas. The most notable thing about "ax" is the dramatic jump in speed, at up to 4X the rate of "ac", for a peak bandwidth of 10.5 Gbps. So ax has two major things going for it – better coverage in dense wi-fi areas, and much higher speeds.  The "ax" wi-fi gear will be publicly available on the market in early 2019.
Other Interesting Future Wi-Fi Standards
What about all this talk of Internet of Things (IoT)? How do you connect refrigerators, thermostats, dishwashers, and a host of other devices to the network?  Say hello to 802.11ah.  This is known as Wi-Fi HaLow.  It runs in the 900 MHz frequency for easy penetration through walls. It has lower power consumption and wider range than standard wi-fi, designed to connect to IoT devices. It is also used for Smart Meters, M2M (machine-to-machine) and rural communications.
Want to have the latest Home Theater setup?  Give 802.11ad a try. This standard is extremely high frequency millimeter-wave, running at 60 GHz.  With bandwidth throughput of 7 Gbps, it is designed to provide wireless audio and video streaming for home theatre systems, office devices, displays, and other uses.  It only goes short distances and will not penetrate through walls.  But 802.11ad is positioned to play a big role in home theatre systems in the future.
Of course there are other wireless standards on the roadmap for the future, including 802.11az running at 60 GHz to be introduced in 2021.
With every passing year the speeds keep getting faster and the coverage capabilities better.  Do you have an idea of what you want in your future wi-fi? Submit your ideas to the IEEE, as they are interested in hearing them.