---
Mobile Evaluation and Triage (MET)
Get the MET unit from Scientel Solutions and begin protecting your workplace today!
The Mobile Evaluation and Triage product is designed for remote high-tech triage, allowing for diagnostics in restricted or quarantined areas. This unit allows you to thermal scan and connect with multiple parties simultaneously. MET requires minimal training or health care experience for unit operators. The automatic alert that can be adjusted based on your desired levels, notifies you to potential health risks before an individual may even know they are a risk. The MET can be positioned where ever the need is, from an ER unit to a building entrance lobby to an assisted living center.
Each Unit Includes:
M16 Thermal Camera Accurate to .4 Degree and Able to Scan 60 People Per Minute
Color Camera
Stand-Alone System (Mini-PC and 24″ Monitor)
Completely Mobile Evaluation Cart That is Easily Positioned
Onsite Operational Training for Staff
Onsite Calibration

1 Year of Support Contract
Please send us an email or contact your local representative today
for pricing & multi MET discounts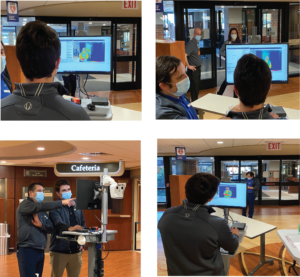 For More Information, and to Submit Your Order, Send Us an Email to: MET@scientelsolutions.com 
---
Additional Thermal Camera Screening in the Media:
The San Bassiano Hospital, in northern Italy prepares to return to business per usual, post COVID-19. As a part of their plan, the hospital is providing masks to guests and putting several access management procedures in place. One of the key components they are using is a thermal scanning camera. As a part of monitoring those who enter the building, they are putting cameras near entryways to monitor those who come into the building by scanning for fevers. Everyone is asked to stop in front of the mounted camera, where they are quickly scanned; if they have an elevated temperature, a second screening is done with a handheld thermometer to ensure accuracy. This is an effort to ensure safety throughout the community and slow the spread of COVID-19.